BEIS Announcement 23rd February 2022:
The Department for Business, Energy & Industrial Strategy (BEIS) announced today that the HydrilyteTM Refueller Prototype project has been awarded funding through the Net Zero Innovation Portfolio (NZIP) Longer Duration Energy Storage Demonstration programme.
Under the first phase of the two-phase programme, the consortium is delivering a feasibility study for a Phase 2 prototype which, if successful, will be built between 2022 and 2024 at Holyhead in North Wales.
The consortium includes: Corre Energy (Prime contractor and project administration); Carbon280 (HydrilyteTM Technology developer); Worley (EPCM); Element 2 (Hydrogen Refueller); Menter Môn (Holyhead Hydrogen Hub proposed site for the refueller prototype); and Energy Reform (Energy systems modelling). The prototype will demonstrate the ability to store hydrogen in HydrilyteTM at a hydrogen hub, transport the HydrilyteTM using standard fuel tankers and release the hydrogen into an Element2 hydrogen refuelling system.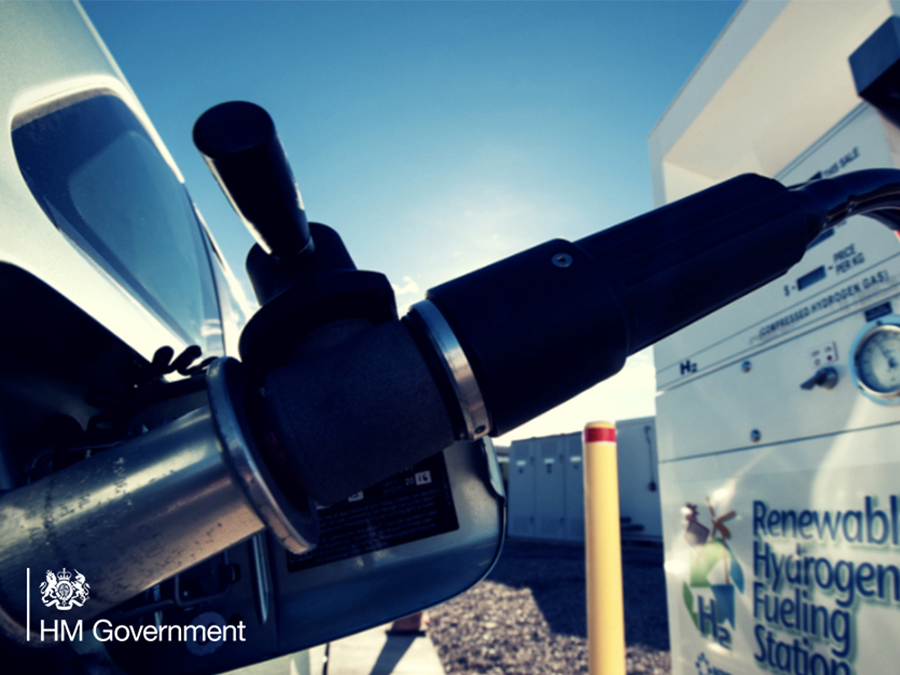 Element 2: hydrogen refuelling station.
Why is this important?
There is a need for new technologies that can provide grid flexibility by utilising excess electricity generation. This otherwise curtailed electricity, can be cheaply converted into hydrogen, which is zero carbon fuel and better suited than batteries to the needs of heavier vehicles like buses and HGVs. While refuelling with hydrogen is simple, getting the hydrogen to the service stations is proving to be a problem and this project is addressing that.
Transporting hydrogen from hubs where it is produced, to service stations where it is used, involves movements through urban areas, so safety is very important. Consequently, the UK's COMAH[1] regulations for dangerous goods prohibit the storage of hydrogen gas in large volumes in non-industrial areas like truck stops.
Brendan Bilton, Founder and Chief Technology Officer at hydrogen refuelling specialists, Element 2, commented: "This limitation on volume practically limits the number of trucks that a truck stop can service to around eight to 10 HGVs per day.  With around 500,000 HGVs on UK roads, compressed hydrogen simply doesn't offer the scalability as a 'Hub to Station' hydrogen carrier. We are excited to be part of this project because HydrilyteTM has the potential to provide a safe and scalable alternative that will enable the UK to lead the world in the transition from diesel to hydrogen powered heavy vehicles by 2030."
Willie Reilly, Alliance Director at Worley, said: "Our advisory and project execution team is partnering with Carbon280 globally because of the potential for the HydrilyteTM technology to provide a safe, low cost, highly scalable, multi-purpose hydrogen carrier, not only for Hub to Station transport, but across the many industries that we operate in."
UK technology leadership
Energy & Climate Change Minister Greg Hands said: "Driving forward energy storage technologies will be vital in our transition towards cheap, clean and secure renewable energy.
"It will allow us to extract the full benefit from our home-grown renewable energy sources, drive down costs and end our reliance on volatile and expensive fossil fuels. Through this competition we are making sure the country's most innovative scientists and thinkers have our backing to make this ambition a reality."
Carbon280 Founder and Chief Executive Officer, Mark Rheinlander, said: "With the NZIP funding, the UK Government is uniquely positioning itself to leapfrog its international competition in hydrogen storage technologies. As far as we know, the UK is unique in offering 100% funding to pilot early-stage technologies like Carbon280's HydrilyteTM and yet, it is at this point, when matched funding is hard to come by, that government funding can make the biggest difference to successful technology commercialisation. We are very excited about the opportunity to bring a global technology first to the UK."
Media Contacts:
Hydrogen Refueller Prototype project and HydrilyteTM technology:
Mark Rheinlander CEO and Founder, Carbon280
Carbon280 Australia: +61 402 457 711
Carbon280 UK: +44 739 172 8199
For further information on Element 2 and its hydrogen refuelling systems, or to speak to a hydrogen expert :
[email protected] or call 07525 665 504
[1] Control Of Major Accident Hazards - 2015
Additional Background
Hydrogen is useful across many industry sectors. These include: removing the intermittency from renewable generation, fuelling vehicles that are too large for batteries and as a feedstock for many industrial and chemical processes. However, while one kilogram of hydrogen contains three times the energy of a kilogram of diesel, one kilogram of hydrogen takes up 11 cubic metres of space at sea level, compared to just over a litre of diesel. This makes it hard to store and transport. The conventional approach is to compress it to very high pressures or to liquify it, which means cooling it to just above absolute zero. Both of these approaches are expensive and inherently dangerous. The multi-patented HydrilyteTM technology from Australian company Carbon280 stores hydrogen without the need for compression or cooling.
The  HydrilyteTM is a liquid containing a suspended metal dust that forms a chemical bond with hydrogen. The chemical bond is very stable and HydrilyteTM can safely retain 100% of the hydrogen stored in it, for decades. HydrilyteTM is made from cheap and plentiful materials and its performance improves overtime rather than degrading.
Carbon280
Carbon280 is the Australian and UK based developer of the multi-patented HydrilyteTM Hydrogen Storage Systems, which provide safe, scalable and cost-effective hydrogen storage and transport.
Element 2
Element 2 is a UK-based venture capital backed deployer of Hydrogen Refuelling Stations and a retailer of hydrogen fuel to the fleet operators and other consumers. We are working closely with councils, transport operators and fleet owners to identify and develop sites and support vehicle conversions to accelerate Net Zero strategies. We are investing in prime locations across the UK and Ireland, and plan to deploy over 800 pumps onto the UK network by 2027 and 2,000 by 2030.