Iain Balchin
| Chief Financial Officer
Iain Balchin is a qualified chartered accountant and experienced CFO who has operated across numerous Private Equity and Listed companies.
Mr. Balchin has spent much of his career in Financial Services working with Credit Suisse, BNPParibas, Lloyds Banking Group and St James Place Wealth Management. He also has significant experience in debt restructuring, equity fund raising (series A-D), M&A and publicly listing companies (IPO). He is an Alumni of the Deloitte Future FTSE 100 CFO program and holds a BSc in Accounting and Finance from Oxford Brookes University.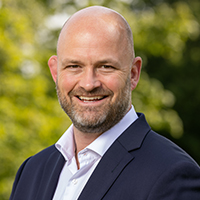 Patrick McClughan
| Chief Strategy Officer
Patrick McClughan has a proven executive management record and over 20 years of experience driving commercial strategy and development in large scale infrastructure. Prior to working with the Group, Mr. McClughan held several senior management roles with a focus on development, project financing, strategic advisory and fund management. He has worked for EirGrid (Irish TSO), Gaelectric (a renewables developer) and is currently Vice Chairman of the Northern Ireland Investment Fund as well as being a Board Director of Belfast Waterfront and Ulster Hall Limited. Mr. McClughan is a Director of Corre Energy Limited and a Member of the Royal Institute of Chartered Surveyors (RICS). He holds a Bachelor of Science degree from Ulster University.