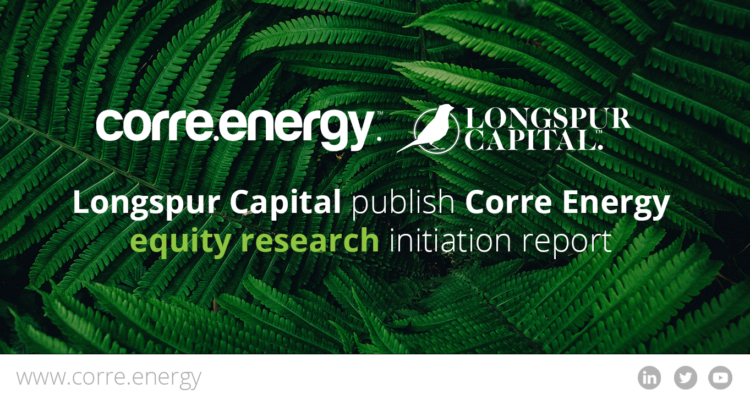 Corre Energy is pleased to share an equity research initiation report* by Longspur Capital, published on Monday October 10th.
Longspur Capital is the leading independent provider of clean energy investment research in the European market.
In the report, Longspur Capital noted in their research on Corre Energy:
"CAES is already one of the most deployed long duration storage technologies globally. It can challenge pumped hydro storage in scale and duration and is cost competitive with other technologies at longer durations". 
"We see Corre as the leading developer of CAES in Europe, expecting to bring 3,200MW of storage into operation by 2030 with just under half this target already under exclusivity. 
The company is working on offtake proposals for its first project in the Netherlands with investment grade partners and has strong financial backing".
"Corre's recent interim results show the company working on offtake proposals for its first CAES project in the Netherlands with investment grade partners. Its second project in Denmark has now signed a letter of intent with Gas Storage Denmark on a targeted storage cavern and a MoU has also been signed for cavern option agreements in Germany".
The report also emphasises the importance of energy storage as renewable energy penetration rises. It states:
"With the energy crisis likely to accelerate domestic energy production, storage becomes an increasingly essential part of the energy mix. CAES targets longer duration storage and can accommodate higher overall capacity for which we see a total global addressable market of 21TWh".
To learn more, access the full report from Longspur Capital here
* This report has been commissioned by the issuer and prepared and issued by Longspur Research, in consideration of a fee payable by the issuer. 
It is Non-Independent Research and a marketing communication under the FCA's Conduct of Business Rules.
About Corre Energy
Corre Energy (www.corre.energy) is a European company (listed in Dublin; headquartered in the Netherlands) that is at the forefront of developing and operating Long Duration Energy Storage projects and products. These projects unlock the value of renewables by combining hydrogen production with long duration, flexible energy storage, thereby supporting Europe's net zero decarbonisation goals, increasing Europe's energy security, and facilitating the energy transition.
Our first storage projects, both Compressed Air Energy Storage schemes, are located in the Netherlands and Denmark. Our near-term ambition is to develop additional schemes in the Netherlands, Denmark, and Germany, with further ambitions to develop in the UK, US and the Middle East. All of our active European projects are designated within the European Union's 10-year network development plan.